Work in progress.  Be patient with the formatting and the rest of the content.
This is a repository of my existing hero reviews. Going forward I will update this blog post and not the main review page whenever I have new or revised content to contribute. I also plan to add notes/stars/awards for different characters that do one specific thing particularly well.
Tutorial Heroes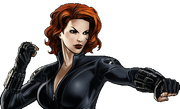 Black Widow starts small but doesn't stay there, particularly once you get her in her grey tac pajamas.  As if all-stealth, all-counterattacks all the time wasn't enough, she boasts a serious health-draining L6 kick, a viable damage-preventer in her L2 sting, and consistent stuns following her L9.  This is a supremely useful character.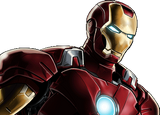 I miss Unibeam.  The old Unibeam.  The one I could stack seven times and then OHKO Dormammu on the back end of a three-wave battle.  That was the one unique and useful thing that made Iron Man worth playing, and now it's gone.  I hope you got his LE Mark 42 "Vanilla Coke" alt, because if you didn't then you have a very poor quality character here.
Clint's rebuilt alt certainly raises his game a good bit... just not enough.  While he stuns, get the tac bonus for extra attacks, and can follow up any number of times in his Golden Age leotard, I just don't see him doing enough.  At least half the time he procs zero or one follow-up attack, many of his debuffs are of minor effect, and his base damage is still nearly the lowest in the game.  McKayla and I are not impressed.
15 CP Heroes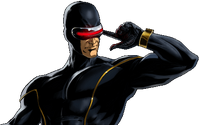 A reliable addition to your game at the lowest price point. He's not a top-tier character, never has been and probably never will be, but definitely adds value. Scott comes with a gentle learning curve, as his skills are generally straightforward, but straight damage and counterattacks never go out of style.  He's certainly an upgrade over Hawkeye at the tactician slot.
One of the most underrated characters. Suzie packs multiple defensive passives, stealthy offense with deadly criticals, and the unique Force Cage ability. She demands a certain level of game knowledge to put her to best use, but absolutely boasts a first-rate skillset.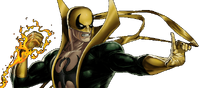 Danny is a gentle introduction to the scrapper class. He is one of the few heroes with a healing skill, but his use overall is limited. Even his recent buff to Heart of Shou-Lou, making it a quick action, has little impact: the stat boost is still minor and makes for a very gradual improvement over time... too gradual for most battles. Even at low levels, where prolonged PvP fights are more common, the Scroll of Angolob strips his stacking advantage and leaves him exposed. He is worth buying early on, but not worth using later.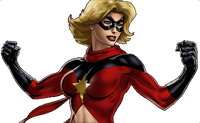 Deals damage, absorbs damage, accesses extra turns multiple ways. A real winner early on, since extra attacks are always a boon, though she's quickly falling behind the meta at all but the lowest levels, as the game moves on and she remains the same. Still a real asset at the 15 CP price point.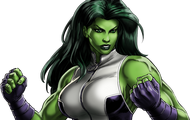 Shulkie is the first bruiser that most gamers will buy, and she's well worth the buying. Taking her to just level 2 to access her burst of speed makes her a massive difference-maker at the lower levels. The bruiser selection is solid from top to bottom, so she's actually one of the weaker of the class as a whole, but don't underestimate what she'll do for you any time you use her.  I stand at level 195 and she remains a go-to for me when I need a bruiser in PvE.
23 CP Heroes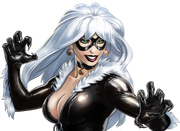 Felicia starts out slow but picks up fast; resist the urge to scrap her before you get her to level 9 and take her top skills for a test drive. Bleed/Stroke of Luck/Nerve Chop is one of the best self-contained combos in the game, and delivers very real damage. She's somewhat unremarkable on the non-Stroke of Luck turns, but if you can't find a way to use someone who delivers knockout blows every other round, then I don't know what you're looking for. Her alt is a great acquisition, even though the sprite looks like a secretary with poor judgement at an office Halloween party.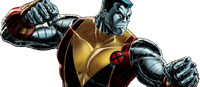 One of the few characters who is useful in any pajamas at any time. His P5 duds dole out serious heals, in addition to eating massive damage. His modern gymnastic leotard boasts a passive protect skill, to compliment his natural damage-reducing abilities and mental resilience. The ground attack bypasses protect actions and doesn't trigger counterattacks, while Decimate is an excellent and consistent source of pain for your opponents. Scrapper or bruiser are both great, but the original class boasts serious anti-Wolverine t3ch.
Really, a terrible character to use in battle. Sure, he follows up with the scrapper bonus, counterattacks like an infiltrator, and protects like a bruiser... if he could only get the three to work at the same time he'd be fantastic. But he can't, so he isn't. His turn sequencing is among the worst in the game, killing a great skillset concept with unwieldy slowness. Hopefully we get to one day use a Shaft-style tiara-and-'fro version who can figure out how to focus all that potential into one bad mother. In the meantime, use him to unlock 10.6 - which is a great level in several different ways - and don't bother with him for anything else.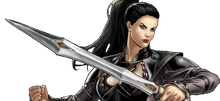 Sif is probably the best character that you never need to get.  Her base character is middling, but her modern pajamas really make for a solid damage dealer in both bruiser and scrapper form, easily at the top of the scrapper class for a single attack/followup.  That said, her skillset is completely inadequate for PvP and unnecessary for PvE; even with a high level of playability and consistent damage, you'll never miss her if you don't buy her.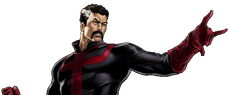 Effective as of the release of his Dracula pajamas, Dr Strange now makes 3 of his 4 moves into quick actions. He officially does a little bit of everything: extra actions, healing, shields, single-target damage, magic damage, AoE damage, a health-draining debuff that nobody is immune to... there's pretty much something for everyone here.
33 CP Heroes
Between Plasma Body, Blazing Speed, and Flame On, defensive passives alone make Johnny highly playable. Add Fireball, which is probably not only the single most damage possible on turn one, but is easily set up for increased damage by his L1 or a number of agent weapons that debuff with burning. HT is one of the 2 or 3 strongest characters available below the 90 CP price point.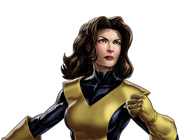 Kitty in her base uniform is really nothing special - it takes a confluence of effort and luck to manage her phase, which is her greatest asset. When she switches to her Shadowcat alt, she she is an object lesson in turning defense into offense. Pair her with Phoenix (Mind Link) or a protect shield in PvE to successfully avoid nearly all forms of damage while counterattacking/exposing against nearly all forms of attack. Make sure you get her to level 9 to open up some offense that won't break phase, and find ways to increase her attack to get the most out of her counters.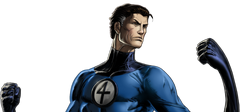 I really want to like Reed but I can't decipher how to play him in a way that is actually useful. Stretch Punch and Multistrike just do very little damage with marginal debuffs. Tumble is all-or-nothing: its base damage is greivously low but when it crits it's one of the best AoEs in the game. Bifurcator is a unique skill: stealthy, delivers percentage damage, restores stamina... but it's incomplete. It removes a percentage of the target's remaining health, which means that it can never be used to KO an enemy, and also means that it works cross-purpose to its stamina restoration: you can use it early to do more damage and restore stamina to those that don't need it, or use it later when you need the stamina but it does less damage. So, maybe someone can come up with some definitive tech to take him to the next level, but I haven't seen it to this point.
Spider-Woman is now generally considered the least useful character in the game. Vengeance as a quick action hardly helps, because her offensive capacity is limited: one minor debuff, two single-target attacks, and that's the end of it. If she were to get an infiltrator alt and was able to double-counterattack every time, then we'd be on to something, but unless and until then, she remains on the low end of playable.
Thing has one really reliable asset: Stonewall is a first-rate protect action that eats damage, restores stamina, and grants the ever-valuable extra turn. The problem for him is what he does with that extra turn: Clobberin' Time is extremely low accuracy and gobbles 25% of his stamina to deliver average L1 damage... overall a skill that doesn't have the assets to compensate for its liabilities; Fault Line is a good ground attack though the base damage is too low to expect much of it without an enraged or two (and, of course, useless against flying enemies); Gizmo Sandwich misses at an obscene rate, with damage and a stun proc rate that don't justify such terrible accuracy (take a look at the comparable skills to this one: Phoenix's Telekinesis lands 71% of the time, She-Huk's Motion Granite is 68% to the good, while Gizmo Sandwich is a horrid 58% hit rate). He's more than usable for his defense alone, but his offensive abilities are much less than remarkable.
48 CP Heroes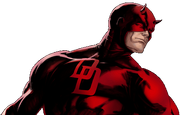 DD was first-rate early on, but just hasn't held up with the changes in the environment. Radar Sense is still a great skill, but he needs a rework and his yellow-suit alt to move up to the current levels of power.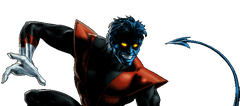 Kurt spent very nearly the entire first year of M:AA's existence as the measuring stick of all badness; the worst that was available, the least of these. Well, "the first shall be last and the last shall be first" doesn't just apply to judgement day, but also to power tiers. With protects, BAMFs, and bleeds in every direction, Swashcrawler is easily one of the most powerful characters available. His L9, Shadow Dance, is an A+: a stealthy AoE that lays as many as 3 debuffs, and Triple Threat as the next move is now very much the threat it was always meant to be. An amazing rebuild has taken this beloved character from the cellar to the penthouse in one sweep.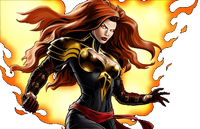 12/21/12: We all did, in fact, die in the Mayan apocalypse today, and the new Phoenix brought everyone back to life.  The reworking of this character was overdue, but not overdone, and M:AA Phoenix is now much more representative of the cosmic force she is in the comics.  In PvE she's still a Mind Trick pony, as death is a rarity in that setting; but in PvP her resurrection trait is amazingly powerful and fixes a number of issues regarding turn sequencing; and her L9 Phoenix Fire is now the game-changer that it always should have been.  She's suddenly and immediately a top-tier character.
Truly, one of the most potent characters in the game.  Frankly, I can't believe that I used to have to defend this character from naysayers, as if there are any of those left. While his base damage is low, the secret to this game is turn advantage, and Quicksilver does that like none other: seizing the initiative to go first and taking two turns a round by default.  Add his scrapper bonus with free follow-up, an AoE with a chance to stun, and his blue pajamas that grant him extra attacks at random (again, turn advantage from all) and you have one of the game's most dynamic, effective heroes.  The fact that he's very reasonably priced at the 48 CP point only adds to the value he brings to your game; definitely one of the first ten characters you should buy.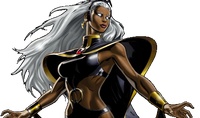 Storm has been highly underrated for quite some time.  Her shroud alone makes her playable, add two catastrophic AoEs, and random shots of lightning from her passives are gravy.  You also need her to unlock epic boss Magneto in 4.4, which is not only the most efficient level for CP farming but also drops the Magnetic Field Generator, so she adds tremendous value to your game.
Rhodey started as the most powerful character in the game who needed no fewer than three nerfs to bring him in line, went to being a flying paperweight, and with the rebuild and release of his Iron Pepsi alt he's a serious contender again.  This is one of two (along with Havok) who have a very real capacity to choose one target and obliterate them on the first turn.  Add that his premium level is the source of the Power of Four, and you have a must-buy.
Ad blocker interference detected!
Wikia is a free-to-use site that makes money from advertising. We have a modified experience for viewers using ad blockers

Wikia is not accessible if you've made further modifications. Remove the custom ad blocker rule(s) and the page will load as expected.