AUTHOR'S NOTE: UPDATED GUIDE COMING SOON!
A simple tool to help you get a grasp on the amount of time, silver and SHIELD Points needed to train up all your heroes to level 13, 12, 11, etc. This timetable does not take into account the speeding up of training, particularly the last 5 minutes which are free.
Directions
Simply add the number of heroes you have at each level in each class to Column D of the 'Time' area in each class worksheet. For instance, if you have 5 scrappers at level 8, click on the 'scrap' tab and type 5 into D7, and if you have 2 bruisers at level 7, click on the 'bruis' tab and type 2 into D10.
Nothing outside cells D4 through D16 under the 'Class' worksheets can be changed, as I've password protected the sheets to foolproof the formulas. The 'All' worksheet has also been password protected in its entirety for the same reason.
The simplest place to get your list of heroes and their levels is in the Player vs Plaver (PVP) screen. Under PVP Bonus, Click 'HEROES'. This will bring up your Hero Bonus screen, containing a list of all your heroes and their levels in each respective class.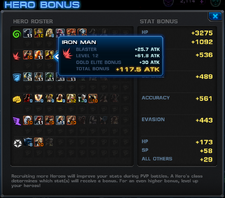 Compatibility
This spreadsheet was created using Apache OpenOffice3 Calc, and also in Microsoft Excel 2000. The OpenOffice3 Calc program uses .ods files. Excel 2000 uses .xls files. Newer versions of Excel should have no problem opening this .xls spreadsheet.
If you don't have a spreadsheet program, Apache OpenOffice can be downloaded free through download.com from the following links:
For Windows: http://download.cnet.com/Apache-OpenOffice/3000-18483_4-10263109.html
For Mac: http://download.cnet.com/Apache-OpenOffice/3000-18483_4-10209910.html
Timetable Links
Click this link to downlad the spreadsheet in OpenSource Format (.ods):
https://drive.google.com/file/d/0ByyeYfxgONY0dW5TQTY0MnV6RDg/edit?usp=sharing
Click this link to download the spreadsheet in Microsoft Office Excel Format (.xls):
https://drive.google.com/file/d/0ByyeYfxgONY0R1k5eUJvX3Zjblk/edit?usp=sharing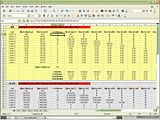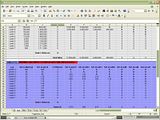 Ad blocker interference detected!
Wikia is a free-to-use site that makes money from advertising. We have a modified experience for viewers using ad blockers

Wikia is not accessible if you've made further modifications. Remove the custom ad blocker rule(s) and the page will load as expected.