After Playdom's MAA found out of what I did earlier, I asked that my first Blog about this topic would be deleted because I thought I won't find something else to Troll in MAA... until recently... ^_^
Blackbolt appears on a TV Station

(Spec Ops 13)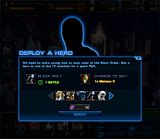 Sijfer (talk) 14:33, October 2, 2013 (UTC)
P.S.
To the Admins, I am truly sorry to bother you last time, and thank you for your hard work.
Ad blocker interference detected!
Wikia is a free-to-use site that makes money from advertising. We have a modified experience for viewers using ad blockers

Wikia is not accessible if you've made further modifications. Remove the custom ad blocker rule(s) and the page will load as expected.