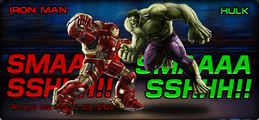 Guide Notes
Guide derived from YouTube.com, specifically from Kingfisher745.
"Derived", because I ignored some ISO-8 that were recommended.
The purpose of this guide is to help those who have problems accessing the YouTube site.
Mainly ISO-8s that give additional HP, ATK, and DEF such as Stalwart ISOs.
For this Battle, Recovering E-ISO is highly recommended.
Slots 1&3: Any
Slots 2&4: Suppressing A-ISO (highest priority for Slot 2), Ionizing A-ISO (highest priority for Slot 4) or any A-ISO that can increase the hit accuracy (Focused Ballistic, Focused Mechanized, or Focused Radiant).
Battle Notes
Iron Man "WILL BE A BLASTER" in this Fight. You can't change that.
Iron Man WILL start out using Hulkbuster.
The Hulkbuster resores HP after 3 rounds.
Hulk will switch from a Tactitian to a Bruiser in-between the battle. This occurs either when your Iron Man's Health is reduced to 50%, or when Hulk's Health is reduced to near 20%.
Iron Man should be at least at Lv9 for this guide.
This is a 1-on-1 battle.
Hulkbuster Power is different from Stamina. (just wanna point that out)
Battle Start
Hulkbuster VS Tactitian Hulk
Use Lv2 on Hulk and Recharge if HP drops past the 50% mark.
Mid-Battle Scene
Activates when Iron Man's HP reaches 50% or less or Hulk's HP reaches in between 20% to 1%. Does not trigger if you reduce Hulk's HP to 0%.
Prof. X will have a short chat with Stark.
After a couple of turns, Hulk will become a Bruiser. Wait for this moment resting. Keep Iron Man's HP to almost 50% for this.
Iron Man VS Bruiser Hulk
Keep the Hulkbuster Power Level to 20% until the next Hulkbuster repairs. Until then, Recharge to activate the Recovering E-ISO's ability.
When the Hulkbuster restores it's health, use Lv2. This will consume all Hulkbuster Power and switch out to Mk43 Armor.
Use Lv9 on Hulk.
Ad blocker interference detected!
Wikia is a free-to-use site that makes money from advertising. We have a modified experience for viewers using ad blockers

Wikia is not accessible if you've made further modifications. Remove the custom ad blocker rule(s) and the page will load as expected.