At San Diego Comic-Con, Marvel.com Assistant Editor Marc Strom interviews the Producer of Marvel: Avengers Alliance, Justin Woods about upcoming news in the game. Video footage of the interview is found at Marvel's official livestream account around 30:10 here.
Justin Woods works for Disney and Playdom and is the Producer of Marvel: Avengers Alliance. Due to his internal work in the game, his current level in the game is 43. His favorite character, though relatively new to the game, is Scarlet Witch, while his favorite Marvel Comics character is Deadpool.
July 13, 2012 Announced Updates
The announcement of Special Operations 2.
The featured unlock-able hero for Special Operations 2 was confirmed to be Emma Frost.

Yes! We just launched Scarlet Witch at 90 CP. We have more upcoming female heroes as well, but for our next hero, it is best to look but not touch!

Back at a thread in Developer Q&A Subforum in Playdom's Official Marvel: Avengers Alliance Forums, Justin confirms Rogue to be in the game.
The game will have two more Chapters (up to Chapter 12) and will complete as the first season of the game.
There will also be a second season for the game, details unknown.
New Uniforms announced that will be available in the game this week or next week:
July 14, 2012 Announced Updates
Link to the Livestream can be found here.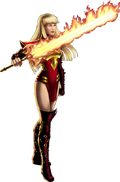 From left to right: Colossus, Cyclops, Emma Frost, and Magik
New Hero Uniforms confirmed:
Gallery
Sources
Ad blocker interference detected!
Wikia is a free-to-use site that makes money from advertising. We have a modified experience for viewers using ad blockers

Wikia is not accessible if you've made further modifications. Remove the custom ad blocker rule(s) and the page will load as expected.