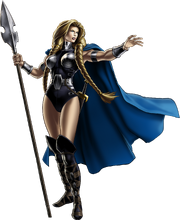 Discuss it here! Once available, further updates are to be added in this Blog Post.
Livestream Link: http://marvel.com/nycc2012
Record: Link (Around 13:40s)
Schedule
In Marvel's Panel and Booth schedule for October 13, 2012 this Saturday, the Marvel Video Games Panel (which includes Marvel: Avengers Alliance) is from 11:15am to 12:15pm. [1]
Live Blog Posts
Live Blog: http://marvel.com/news/story/19520/nycc_2012_liveblog_central

11:35
Comment From Andre Fernando Lee 
Any characters or costumes coming out?

11:37
Strommy: @Andre Yep, we've got a ton of new characters and new costumes coming out soon, and they're always developing more content. New characters include Ghost Rider, Red Hulk, Psylocke, Cable, a Grey Hulk alternate costume...we'll have a full gallery for you shortly on Marvel.com!

11:41
Comment From D-5 
G-G-G-G-G-G-Ghost Rider's going to be in it too?

11:41
Strommy: @D-5 Yep, he'll be the reward character for Spec Op 4, which is coming soon.

11:42
Comment From Andre Fernando Lee 
ALso how much will deadpool cost about if we don't earn him in PVP?

11:42
Strommy: @Andre Right now, the only way to get Deadpool is through the PVP tournament.

Confirmed Information
New Alternate Uniforms for Thor (Classic Thor), Hulk (Grey Hulk), Magik (Classic New Mutants), Scarlet Witch, and Rogue (X-Men Legacy).[4]
Challenge mode (with Hercules slide) and spec ops (with Vision slide) coming to the game.[5]
A Halloween-themed Special Operations will feature Ghost Rider against Baron Mordo, Satana and Mephisto.[6]
Ghost Rider will be the Hero reward for Special Operations 4, which is coming soon.
This also confirms that the new villains are Baron Mordo, Satana, and Mephisto.
Gallery
Sources
Image Sources are provided in their respective pages.
External Links
Ad blocker interference detected!
Wikia is a free-to-use site that makes money from advertising. We have a modified experience for viewers using ad blockers

Wikia is not accessible if you've made further modifications. Remove the custom ad blocker rule(s) and the page will load as expected.