((OK, so I am going to try and reimagine the Free Stuff Page a bit, so this here is my little Mess Around Playground to fiddle. Let's see what magic I can make!))
Each day, Playdom release links to collect unique content or free bonus items via the MAA Facebook Fan Page or other mediums. This is a collection of some of those links.
Open each link in a "new tab". Once the page has loaded, you can close the tab and the item will now be in your game when you return to it.
DO NOT CLICK ON THESE LINKS WHILE YOU'RE PLAYING THIS GAME
After you've clicked on these links a force refresh popup will appear, so if you're in the middle of a fight when you click on these links, you will lose your Energy/UISOs that you used to load the fight, as well as any items that dropped during the fight.
Playdom links refresh every 2 weeks from when they are claimed. Others, like the Monday Special, are only available once and are redone each week
If you're a Playdom.com player, you will need to go to our Free Stuff for Playdom.com Players page. Many of the links that were previously listed on this page have been discontinued. We will continue to list new links as we get them. 
Free Links
Uniforms
Weapons

Supplies

Resources



Helpful Links for More

Getting All of the U-ISO 8 You Will Ever Need!
Despite getting a weekly boost of 10 Unstable ISO every Monday for our Spec Ops Missions, people still want more. Give someone an inch, they will take a mile, and this guide is how to get the mile, and more, by maxing out as much UISO as possible each day. For those who have trouble keeping a good stock, this guide is for you!
The honored art of farming is nearly a necessity in the game, and none more than farming for Command Points. This tutorial will show you where to start and how to go about getting the most CP for your buck, and when you reach the second mission of Chapter 12, well, you will know what to do from there.
How to Create a Facebook Filter so that your Allies can get SHIELD Points for Free!
Every time you "share" an Achievement, M:AA will post a link on your wall that anyone can click on to get a Free S.H.I.E.L.D. Point. However, not everyone wants to spam their Facebook wall with game posts. However, there is a way you can Create a Filter in Facebook so that only people in your Allies List can see these posts. Thus, you can help each other to harvest SHIELD Points for free from each other's walls, and save your precious Daily Gifts for other items.
Daily Email Bonus Items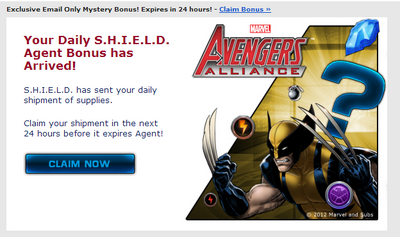 Playdom have an email that gets sent every day (almost, occasionally they forget to hit "send"). Players that receive these items will receive a link that is unique to their Facebook ID. These emails will give you a supply for free. Sometimes it might be Team Restore and other times it might be Chrono Boost. But hey... They're free!
You should get these emails automatically, however if they're not in your Inbox or Spam Filter, then you might need to trouble shoot your account settings so that you can receive them. Docbobm has written an excellent Tutorial on How to Receive the Daily Emails.
Dodgy Deals
There are several Facebook groups/aps that claim that if you post links on your wall or other Facebook walls, that you will get free Gold. If it sounds too good to be true, it probably is.
These sites can't track if you've posted on other walls unless they give you a link to "Share". You won't get Gold, and all you'll be doing is making yourself look like an idiot for falling for a Dodgy Scam and helping them to spam other legit pages.
Disclaimer
We are not Playdom! We are a community-based project working hard to bring you information and free links as they happen. We have no control over the creation of free stuff save for adding them to this page when Playdom creates them.
WARNING!
Comments from unregistered users requesting links for specific items will be ignored and slated for deletion. Asking for links demonstrates that you haven't read this page, haven't read the FAQs, and will be interpreted that you are Trolling.
THIS IS YOUR ONLY WARNING!
Ad blocker interference detected!
Wikia is a free-to-use site that makes money from advertising. We have a modified experience for viewers using ad blockers

Wikia is not accessible if you've made further modifications. Remove the custom ad blocker rule(s) and the page will load as expected.