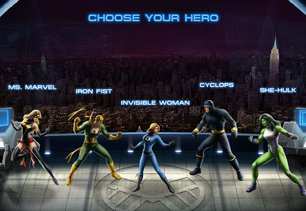 OKAY, now many people always ask "who should I recruit". Here is MY answer to the question. I repeat, MY answer.
AT LOW LEVELS
In lower levels, you should not worry too much about heroes to recruit. You should definetly first recruit all the 15 Command point Heroes, they are powerful, and useful. Plus, you need them for your PvP bonus anyway.
AT MEDIUM LEVELS
In medium levels, you should get some heroes that will protect your team, and a couple of heroes who strike hard. I most reccommend Colossus for protecting, Pheonix for damage, and Quicksilver for other stuff. But, it's also nice to have a good 90 Cp heroe, example, Tigra or Thor.
AT HIGH LEVELS
Well, in high levels, it would be nice to try get all heroes, but if not, recruit heroes such as Beast, Tigra, Thor, Scarlet Witch and even Dr. Strange with Alt. Uniform. You will need very powerful heroes so try also saving Cp untill the next Special Operation to see who do you need to get to the Epic Boss.
AT ANY LEVEL
You should definetly get heroes who are needed for Premium Missions and Epic Bosses to earn more useful weapons. You will need some Debuffing hero for PvP. I reccomend Black Cat and Black Cat for ultimate Bleeding team.
Ad blocker interference detected!
Wikia is a free-to-use site that makes money from advertising. We have a modified experience for viewers using ad blockers

Wikia is not accessible if you've made further modifications. Remove the custom ad blocker rule(s) and the page will load as expected.