Why should you use an off site image source
Because this Wiki is part of the larger Wikia web site we have to share out image sharing with the other Wikis. For that reason we have to request that all image that are not game related are stored off site and linked to where you need them.  This would include screen captures as well.  You are allowed one image for your user page that does not have to be game related, any more than that we ask that you store off site. 
While using images stored off site is not hard it does take a little bit of knowledge of how to write (or really edit) wiki code.
Using Photobucket
The purpose of this tutorial is to show you how it is done. To start with I will be using Photobucket . While there are others out there I use this one. The code will most likely be the same for other services as well. 



I will use an image that I created to replace images that are against the policy of our Wiki. First you will need to set up an account with Photobucket. That should be an easy thing to do so I will not address it here. The second, like the first one, is also easy, it involves uploading the image to Photobucket. These should be something you should be able to do without any problem.
Once you have the image up, you will need to go to the page that has the image on it. On the bottom right side you should see a set of links. We are going to look for the one that says Direct Link. When you click in it the code in it will automatically be copied to your computer's clipboard. Then it is a matter of going to the page you want to edit on the wiki and then click on the edit button.
Now here is where things will get a bit tricky. There will be two tabs at the top of the page. You will want to click on the one that says source. This will contain a lot of code and text that you have typed while in the visual mode. You will then paste the code that you copied to your clipboard where you want the image to be. Using my example it would look like this.

http://i305.photobucket.com/albums/nn206/drbobm/8a9d2ab6-b522-4a46-8e0e-b79e9e307c57_zps625b61fc.jpg
When done properly it should look like this: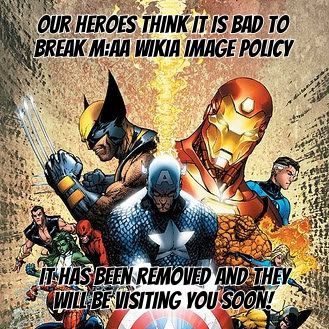 Advantages
Editing and resizing tools are available for your image
Disadvantages
Must register to use service
imgur
I was not familiar with this site. When it was suggested I took a look at it. The main advantage with it is that it does not require a registration. The disadvantage is in the terms of service.
As long as images are getting at least 1 view per 6 months, they will stick around forever. If an image does not receive even 1 view in 6 months, it may be removed to make room for new images. Images on pro accounts will never be removed.
So in six months, your image could be gone. That being said, lets see what to do. You need to start by uploading your image. Once that is done it will give you give you a page to add content to it. On the right side of the screen will be a list of links.
Look for the one that says Direct link (email and IM), right and copy that link. It should look something like this:
http://i.imgur.com/aXfzai1.jpg
Note:if you are using a picture that someone else loaded to imgur it may have a ? and number at the end. Delete those, they will break the image here and make it a link.
As in Photobucket you should go to the source code and paste the link in, and then you will get the image you need.
Advantages
No need to register to use service
Disadvantages
Editing and resizing tools are not available for your image
Image could disappear in 6 months.
Your pictures are public and can be voted up or down. They can easily be used by other people as well.
Imagshack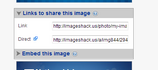 Imagshack seems to have taken the worst of the two previous sites and combined them into one spot. Like Photobucket it requires you to register before you can use the service (though it does let you upload an image it forces you to register it before you can use it. And like imgur, it has no tools to do anything with when you are done. It is simply upload, get the link and use it. The link that you will be using is the direct link. Using the link will not embed the picture.
Like the others, go to the source side of the wiki editor and past the code in where you need it.
http://imageshack.us/a/img844/2944/1631085.jpg
Advantages
Disadvantages
Registration is required but it is simple.
Photos are public and can be used by others
No editing tools (though a resizer can be added at a cost)
Tiny PIC
OK, this one was not easy to make work. Nothing seemed to make sense and I finally got it to work.
To start with, no registration so like imgur it has that going for it. However it is owned by Photobucket, so you might as well log in to them and use it. If you try to log on it will take you there anyway. Photobucket has the tools that TinyPic does not. TinyPic will let you resize an image, to a defined size of their choosing.
Like the others look for the link section like I have shown here. This is where the trick comes in. The second one needs to be copied. It will look like this:
[IMG]http://i49.tinypic.com/2laty8p.jpg[/IMG]
Paste that into the page where you want the image to go. Then you will have to remove the [IMG] and [/IMG] from the code so it looks like this:
http://i49.tinypic.com/2laty8p.jpg
And your image has been embedded.
Advantages
No sign up
Simple resizing when you do your upload
Disadvantages
If you do sign up you are at Photobucket
If you do not sign up it is next to impossible to find your image again.
Extra steps to code into the Wiki page
Dropbox
Update to this page as I have discovered that Dropbox works real well for image sharing as well.  Dropbox allows you to share files and folders on all computers that you work on as well as your smart phones and tablets.
Open your Dropbox folder and find the Public Folder. Create a folder underneath it.
I use Windows so you will have to modify for a different OS, or if you are using their web site version.  Right click on the folder just created and choose the share folder option.  
What ever images that you want to use put into this folder.  Right click the image you want to use and choose 'Copy Public Link' Your code will look like this:
https://dl.dropboxusercontent.com/u/12545994/pvp%20image/Capture3.PNG
And the image I used is here.
Advantages
You have full control of what you have uploaded and you can delete it from your hard drive and Dropbox as well
Any edits to that image will be reflected the next time the image is loaded. (I have used this in the past for graphing my day to day PvP play).
This can be used for non image files if you wish to share a spreadsheet or document.
Disadvantages
Registration is required but it is simple.
Being selfish here but if you decide to sign up for Dropbox, use this link (https://db.tt/frPRtHl)and I can get some extra storage. Thanks.
Things to be aware of:
The image will be the full size that you make it. If it is longer than about 500 pixels it will spill over the right hand border. Make sure that you resize it before you upload it to Photobucket. If you want to use it full size put a space before the code and it will force it to be in a box with scroll bars in it. (Thank you Cyrus Annihilator)
Even if it is off site, it will have to meet the standards of decency. Any image that is deemed inappropriate by staff will have the link removed. 
To use an image in a message, click on the [ ] button and post the code in it. 
Ad blocker interference detected!
Wikia is a free-to-use site that makes money from advertising. We have a modified experience for viewers using ad blockers

Wikia is not accessible if you've made further modifications. Remove the custom ad blocker rule(s) and the page will load as expected.