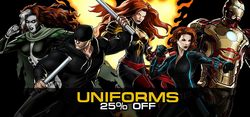 The Uniforms Sale was a special sale event in Marvel: Avengers Alliance that started on May 10, 2016 and ended on May 20, 2016. Many Alternate Uniforms were on sale for several days.
Sale Items
Edit
The following info box is incomplete and requires the areas to be filled. If you wish, please examine the table and add anything missing. Remove this notice upon completion.
Missing: Remaining alts on sale
Ad blocker interference detected!
Wikia is a free-to-use site that makes money from advertising. We have a modified experience for viewers using ad blockers

Wikia is not accessible if you've made further modifications. Remove the custom ad blocker rule(s) and the page will load as expected.