UL (Underwriters Laboratories) is a safety consulting and certification company headquartered in Northbrook, Illinois. It maintains offices in 46 countries. UL was established in 1894 and has participated in the safety analysis of many of the last century's new technologies, most notably the public adoption of electricity and the drafting of safety standards for electrical devices and components.
UL provides safety-related certification, validation, testing, inspection, auditing, advising and training services to a wide range of clients, including manufacturers, retailers, policymakers, regulators, service companies, and consumers.
UL is one of several companies approved to perform safety testing by the US federal agency Occupational Safety and Health Administration (OSHA). OSHA maintains a list of approved testing laboratories, which are known as Nationally Recognized Testing Laboratories.
Relationship with Marvel: Avengers Alliance
Edit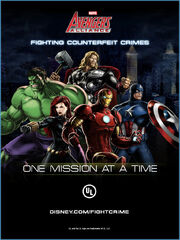 "Fighting counterfeit Crimes
One mission at a time"
— UL and Marvel: Avengers Alliance
UL had a collaboration with Disney and Marvel: Avengers Alliance on their campaign against counterfeiting crimes. Several UL advertisements appear in the Playdom.com version of the game, and a website was made for the event.
Covert Task
Edit
A Limited Time Covert Task named Pirate Hunter was released on July 8, 2013 sponsored by UL and features a series of Tasks relating to Piracy. Three new Gear can be obtained from this Task.
Official Marvel Avengers Quiz
Edit
In the official event website, there is a short playable Quiz that has ten questions of a mix of Multiple choice and True or False. Most of the answers are found at the video inside the website. Downloadable Certificates and Wallpapers are won at the end of the quiz depending on the player's score and Rank. A perfect 100% score grants the Rank of Diplomat.
| Score | Rank |
| --- | --- |
| 0% - 40% | Trainee |
| 50% - 70% | Officer |
| 80% - 100% | Diplomat |
External Links
Edit
Ad blocker interference detected!
Wikia is a free-to-use site that makes money from advertising. We have a modified experience for viewers using ad blockers

Wikia is not accessible if you've made further modifications. Remove the custom ad blocker rule(s) and the page will load as expected.