For the Playdom.com-exclusive feature, see Team (Playdom.com Feature).
The Team is comprised of the Agent and up to two Heroes. It is the basis of combat in Player Versus Enemy (PVE) Missions and Player Versus Player (PVP) battles.
Team Management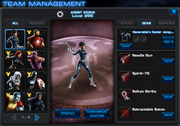 The Team Management page is where changes to the Agent's equipment can be made. Hero recruitment, training, and Alternate Uniforms are also available. It is unlocked at Level 3 after finishing the 1st mission.
Universal
Stats
Health - Max amount of health
Stamina - Max amount of stamina
Attack - Attack power, amount of damage dealt
Defense - Defense power, amount of damage taken
Accuracy - Chance of hitting and critical
Evasion - Chance of dodging attacks and decreases chance from being hit by critical attacks
Agent
Slot 1 - Default
Slot 2 - Unlocks at level 2
Slot 3 - Unlocks at level 20
Slot 4 - Unlocks at level 60
Unlike hero uniforms, the number of slots depends on the Agent's uniform.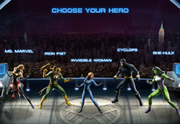 Recruitment
Character Icons
A yellow armor symbol may be seen in the upper left corner of a Hero. This indicates that the Hero has alternate uniforms available.
Recruitable Heroes
Notes
PVP Heroes
Limited Edition Heroes
Main article: Limited Edition Items#Heroes
Leveling
Level
Time
Bonus
Training (Optional)
Rapid[1]
Speed Up[2]
1
-
-
-
-
-
-
-
2
250
500
8
3 minutes
Skill 2
4
-
3
438
1,000
9
15 minutes
Iso-8 Slot 1
6
2
4
656
2,000
10
30 minutes
Iso-8 Slot 2
Empowered Iso-8 Slot
(In default uniform only)
10
3
5
902
5,000
12
1 hour
Iso-8 Slot 3
15
5
6
1,173
8,000
15
2 hours
Skill 3
25
7
7
1,466
15,000
18
4 hours
Iso-8 Slot 4
35
11
8
1,781
30,000
22
8 hours
Iso-8 Slot 5
Augmented Iso-8 Slot
48
17
9
2,114
50,000
26
12 hours
Skill 4
64
22
10
2,467
100,000
30
16 hours
Iso-8 Slot 6
Bronze Elite Bonus[3]
85
29
11
2,837
200,000
35
20 hours
Iso-8 Slot 7
Silver Elite Bonus[3]
110
34
12
3,223
300,000
40
24 hours
Iso-8 Slot 8
Gold Elite Bonus[3]
125
45
13
6,159
400,000
45
30 hours
Empowered Iso-8 Slot
Diamond Elite Bonus[3]
140
45
14
7,994
500,000
50
36 hours
3 Augmented Iso-8 Slots
Vibranium Elite Bonus[3]
160
45
Total
31,460
1,611,500
320
153H 48M [4]
827
265
†Base stats for heroes are based on a Level 2 Agent, when they are first accessible in the game
Slot 1 - Hero Level 3
Slot 2 - Hero Level 4
Slot 3 - Hero Level 5
Slot 4 - Hero Level 7
Slot 5 - Hero Level 8
Slot 6 - Hero Level 10
Slot 7 - Hero Level 11
Slot 8 - Hero Level 12
Slot 1 - Hero Level 4 (default uniform only)
Slot 2 - Hero Level 13
1 - Hero Level 8
4 - Hero Level 14
Notes
Not counting the Heroes' Alternate Uniforms, it would take a total of 10,261*  Command Points to recruit all the current Heroes in the game.
It would take 1,511,500 Silver, 311 S.H.I.E.L.D. Points, 153 hrs 48 min of training time, and 31,460 XP to train a hero to level 14.

It would take 683 gold to skip all of the above