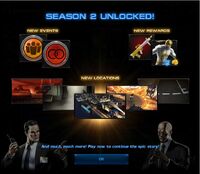 "Complete all tasks, deploys, heroic battles, incursions, epic bosses, and challenge modes in a chapter to complete it.
Completing a chapter will grant awesome rewards!"
— S.H.I.E.L.D. Intel
Chapter Mastery
Each chapter has a number of requirements to be completed in order to fully master it. These requirements are:
Mastering all the requirements yields various rewards for the player.
Mission Difficulty
Each Missions, with a couple exceptions, now permanently set the difficulty to the Agent level when the Mission was first played and completed. This means that for example, a Level 100 Agent runs Mission 1 of Season 2 for the first time, the difficulty is permanently set to Level 100 even when the Agent has Leveled up since.
This change does not affect Premium Missions, as their difficulty is still set to the current Agent's Level. Missions that are set to Challenge Mode are also not affected, as the difficulty is set to the current Agent's Level plus 10 Levels.



Chapter 1 - Excalibur

Chapter 2 - Crazy Eights

Artificial Sweetener

Trans-Atlantic

Sword in the Stone

Antiquity

Eight Fingers

Foggy Vision

Vulture, MP

God Save The Queen


To Catch a Thief

The Sting

Rehabilitation


Rock Candy

Chapter 3 - Crisis of Leadership

Chapter 4 - Globetrotting

Shattered

Gates of Hell

Capo Crimine

Splintering Cells

Heated Negotiations

Tourist Trap

Growing Pains

Techno Illogic


Punishment

Circular Speculations

Lockdown


On the Prowl

Chapter 5 - Spot Treatment

Chapter 6 - When Opportunity Knocks

Tech Up

Grudge Match

Up a Tree

Unknown Intel

Ancient Knight

Dark Complications

Cleaning House

Enchanted


Deific Inadequacy

Harvester of Souls

Clash of Titans


Fourth Wall

Chapter 7 - Crest of the Wave

Chapter 8 - Trial By Fire

Black Queen, Black Knight?

Mysteries Abound

Savage

Sentinel City

We're Not Worthy!

Highest Bidder

Many Heads

But One Immortal


Explosive Events

Demonic Dealings

Mindless Mischief


Savage Science



Notes
Story: Season 2 and its first Chapter premiered on August 1, 2013.
There are twelve confirmed Chapters for Season 2.
Pre-release Notes
Main article: Story: Season 2/Notes