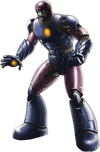 The Sentinels are a group of mutant-hunting robots in the Marvel Universe. The X-Men are usually portrayed as their main opponents (except M-Series Sentinels).
Sentinels are programmed to locate mutants and capture or kill them. Though several types of Sentinels have been introduced, the typical Sentinel is three stories tall, capable of flight, projects energy blasts, and can detect mutants.
In-Game Members
Edit
Sentinels
Edit
M-Series Sentinels
Edit
Nimrod Series Sentinels
Edit
Involved Characters
Edit
Sentinels-Related
Edit
Resources
Edit
Ad blocker interference detected!
Wikia is a free-to-use site that makes money from advertising. We have a modified experience for viewers using ad blockers

Wikia is not accessible if you've made further modifications. Remove the custom ad blocker rule(s) and the page will load as expected.