Sabretooth/Dialogues
Comment

1
6,272pages on
this wiki
Sabretooth Articles and Topics:
This article is about the playable hero. For the Enemy version, see Sabretooth/Boss.
Recruited Message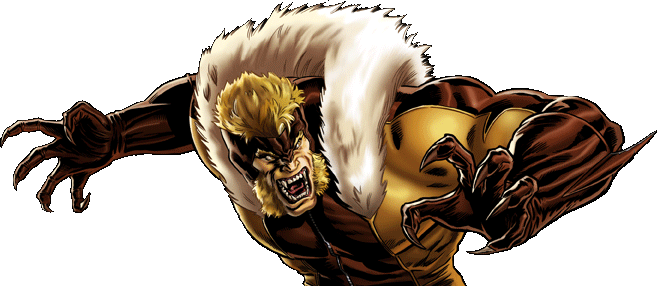 SABRETOOTH




Thanks for letting me out of that cell, Agent. Glad to be on the team.

Oh, by the way... If I ever get this bomb out of my head, I'm going to kill ya.
v

·

e

Angel • Beast • Mockingbird • Moon Knight • Punisher • Rogue • Taskmaster
Cable • Cannonball • Daimon Hellstrom • Doctor Voodoo • Domino • Dr. Strange • Havok • Human Torch • Iron Man • Ms. Marvel • Nico Minoru • Phoenix • Rocket Raccoon • Scarlet Witch • Storm • Sunfire • Thane • Vision
Anti-Venom • Ares • Bishop • Captain Britain • Colossus • Groot • Heimdall • Hercules • Hulk • Iceman • Juggernaut • Sandman • She-Hulk • Thing • Thor • Thundra • Valkyrie • Volstagg • Wonder Man • X-23
Avalanche • Daredevil • Deadpool • Drax • Ghost Rider • Hogun • Iron Fist • Luke Cage • Magik • Omega Sentinel • Quicksilver • Sabretooth • Shatterstar • Sif • Spider-Woman • Squirrel Girl • Union Jack • Wolverine
Agent Venom • Black Cat • Black Widow • Elektra • Falcon • Fandral • Gambit • Invisible Woman • Kitty Pryde • Medusa • Nightcrawler • Psylocke • Satana • Shanna • Spider-Man • Spiral • Star-Lord • Tigra • Wasp
Black Bolt • Black Knight • Black Panther • Captain America • Constrictor • Cyclops • Doctor Doom • Emma Frost • Fantomex • Gamora • Hank Pym • Hawkeye • Loki • Magneto • Moonstone • Mr. Fantastic • Red Hulk • Rescue • War Machine