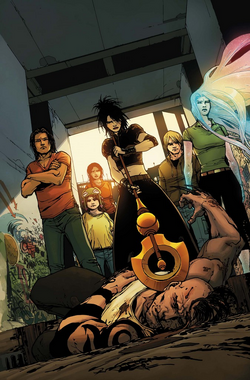 Runaways are a group of somewhat dysfunctional yet loving teenagers whose parents routinely met every year for a charity event. One year, the kids spy on their parents and learn they are an evil organization known as "The Pride", a criminal group of mob bosses, time-travelers, dark wizards, mad scientists, alien invaders, and telepathic mutants.
The kids steal weapons and resources from their parents, and learn they themselves inherited their parents' powers; Alex Wilder, a prodigy, leads the team, while Nico Minoru learns she is a powerful witch, Karolina Dean discovers she is an alien, Gertrude Yorkes learns of her telepathic link to a dinosaur, Chase Stein steals his father's futuristic gloves, and young Molly Hayes learns she is a mutant with incredible strength.
The kids band together and defeat their parents, and atone for the sins of their parents by fighting the new threats trying to fill in the Pride's void. After being betrayed by Alex, who was killed by the Gibborim, they're later joined by cyborg Victor Mancha, shape-shifting Skrull Xavin, and plant-manipulator Klara Prast.
In-Game Members
Edit
with Old Lace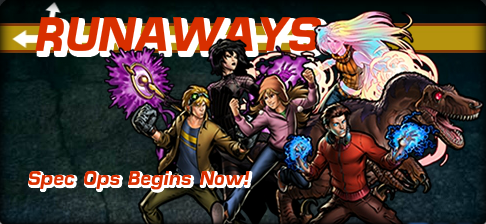 | | | |
| --- | --- | --- |
| Den Mother | Nico Minoru and one of the Runaways | or or or |
| Like A Big Brother | Heroes with a brotherly relationship | |
| Like A Big Sister | Heroes with a sisterly relationship | |
| Not In That Way | One-sided crush | |
| Paradoxical Questions | Victor Mancha and Someone who knows the right questions to force a 404 | or |
| She's The Boss | Chase Stein and Nico Minoru | |
Runaways-Related
Edit
Gear Sets
Edit
Resources
Edit
Ad blocker interference detected!
Wikia is a free-to-use site that makes money from advertising. We have a modified experience for viewers using ad blockers

Wikia is not accessible if you've made further modifications. Remove the custom ad blocker rule(s) and the page will load as expected.