Glossary
Comment

1
3,009pages on
this wiki

Terms and items that appear in Marvel: Avengers Alliance. Some listings have further information about them contained in their dedicated page; just follow the links.
If you're looking for the meaning behind an abbreviation, check out the Dictionary of Abbreviations.
A fictional metal in the Marvel Universe.
A very dense, artificial, iron-based alloy that is virtually indestructible.
Adamantium was (inadvertently) invented by an American metallurgist in an attempt to recreate his prior discovery, Vibranium. It is almost impossible to destroy or fracture, and when crafted to a razor edge it can penetrate most lesser materials with minimal application of strength. It's iron based properties mean that it is magnetic. It is most known for being bonded to Wolverine's skeleton and claws.

People (human or super-human) that work for S.H.I.E.L.D.
Your character in Marvel: Avengers Alliance.
People on your Facebook Friends List that also play MAA and have accepted your "ally request"
People in your Facebook Friends List that appear in your Allies Bar that you can send and receive Daily Gifts to/from
Another realm from whense the Asgardians came from, including Thor, Sif and Valkyrie.

Achievements listed in the Marvel XP that you have gained during gameplay.
Registered Users of the M:AA Wiki can achieve Badges for contributing to this Wiki.
You can view the M:AA Wiki Leaderboard to see the list of M:AA Users that have gained the most Badges for their contributions to the M:AA Wiki.
Categories are a tag that you can place on a page so that it can be grouped together with other pages of a similar topic or nature. When you go to the page associated with that Category, you will then see a link to every page that has that Category tag.

A game commodity that you use to recruit more Heroes to your team.
Recharging time an item or ability needs in order to be able to be used again in a battle. Some skills/gears have "Warm Up" time of which the cooldown is applied at the start of the fight.
Customized PowerEdit
An attribute for an item that means that the power level and damage are based on the level of the agent when the item is obtained.
The difference between Excelsior and Customized is that Customized power levels are determined when you acquire the item, where as Excelsior items improve every time the Agent achieves a new level.
Daily Bugle, TheEdit
A fictional Newspaper based in New York City in the Marvel Universe
The newspaper that Peter Parker (Spider-Man) works for.

Items that you can send and receive to/from your Allies.
Dark DimensionEdit
The Dark Dimension is a "pocket" universe ruled by Dormammu.
When you call in the Agent of one of your Allies to attack your opponents during a Mission with one of the items that they have slotted at that time. Sometimes you get a Hero that has been recruited by said Ally.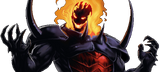 An exiled member of the Faltine race that seeks to seize control of other dimensions that he can add to his realm. He wishes to add Earth to his empire.
An Epic Boss in Special Operations - All Hallows.
A special Villain that only appears in certain Missions after you have fought all the battles and completed all the Deploys, including those that require a certain Class and one or more specific Heroes. Not all Missions have an Epic Boss. There is no Epic Boss in Chapter 1.
A term used in many online computer games to describe repeating an action in a game over and over again in order to gain the benefit of the action in abundance
Replaying the same mission over and over again in order to gain multiple CPs from the Boss and Epic Boss Roulettes
Also referred to as "Grinding"

For more information about Farming, check out Potkettleblack's Tutorial on Farming: Or How to Grind and Get Command Points
Weapons that are obtained by Mastering all Missions in a Chapter (ie. Achieve 5 stars on all 6 missions (including the premium) per chapter).
To view the Golden Weapon you can receive for Mastering that chapter, click the "View Briefing" button next to the chapter name.
See Farming, above.
Superheroes from the Marvel Universe that have joined your Team.
Homo SuperiorEdit
Homo Sapien Superior is a term coined by Magneto to refer to Mutants; those born with a genetic anomaly that grants them an extra-normal ability not possessed by normal humans. This anomaly is known as the "X-Factor" or "X-Gene".
Variants of a particular chemical element. Some isotopes are radioactive, and are therefore described as radioisotopes, while others have never been observed to undergo radioactive decay and are described as stable isotopes.
The term isotope is formed from the Greek roots isos (ἴσος "equal") and topos (τόπος "place").
The substance that boost the attributes of your Agent and your Heroes.
JotunheimEdit
One of the Nine worlds from Norse mythology
The homeland of the Frost Giants, Storm Giants, and Mountain Giants
The birthplace of Loki.
The Kree, also known as the Ruul, is an extraterrestrial humanoid race who have created a vast empire in the Greater Magellanic Cloud and have, on certain occasions, trafficked with the beings of Earth. The Kree race began on the planet Hala in the Pama system long before the first mammals appeared on Earth. The original Kree had blue-colored skin (later generations interbred with genetically-compatible aliens to produce the pink-skinned second race). Although the Kree cannot breathe Earth's atmosphere without special apparatus, their denser bodies afford them about twice the average human being's strength and endurance. Despite their physical superiority and relatively advanced technology, the Kree race has reached the pinnacle of their evolutionary development.
Energy exposure from an explosion of a device caused Ms. Marvel's genetic structure to meld with a Kree's, effectively turning her into a human-Kree hybrid.
A fictional nation located between Hungary, Serbia, and Romania. It is surrounded by the Carpathian Mountains to the north and the Malhela Range to the south.
The Nation ruled by Victor von Doom.
Doom has kept the nation protected from international affairs and economic downturns. Doom's personal patents in the field of high technology and specially robotics are the main export of the country.
Links: Wikipedia • Marvel Wikia • Marvel Universe wiki
Weapons, Items and Alternate Costumes that are only available for a limited amount of time. After the time expires, they will be unavailable to obtain. The Developers may chose to re-release these items, but don't count on it as it may never happen.
Gaining a 5 Star Rating of a Mission.
Gaining a 5 Star Rating in all Chapters.
A database that contains information on all the Heroes and Vllains in the game as well as relevant details pertaining to storyline of the game.

A story within a chapter. There are a total of six missions per chapter and there are twelve chapters within an arc.
A type of superhero
Humans that have "mutated" special powers through natural selection and evolution, rather than through exposure to an external substance
Mutant Growth HormoneEdit
A naturally occurring hormone produced within Homo Sapiens Superior and genetically altered superhumans. This hormone can be extracted and isolated, and when used by baseline humans it will temporarily grants super powers. Powers are sometimes duplicates those belonging to the donor, but results are known to vary. When used by a Mutant, it increases the powers they already possess.
Power LevelEdit
Think of this as the expiry date for an item. When your Agent achieves the level denoted as the Item's Power Level, the item will start to become less effective and you should start to look at other items that may do the same thing better.
Premium MissionEdit
The 6th mission of every Chapter. They are not required to be completed in order to proceed to the next chapter, but they are needed in order to master the chapter and thus obtain the Chapter's Golden Weapon. The boss roulette grants you a chance to obtain 2 premium gears, one of which is related to the required hero, while the other is related to the boss.
The Raft is a prison for superpowered criminals located on a separate island near Ryker's Island, New York. It has eight underwater levels of cells. Each cell is surrounded by thick steel and lined with Adamantium. The cells have no windows; instead, each cell door has a video camera monitoring the inmate it houses. The video surveillance is two-way, allowing for the inmates to see who is looking at them. The inmates' powers are neutralized and they are allowed no human contact.
After you have defeated a Boss or an Epic Boss, the Roulette is a random selection of nine items from which the Boss Reward is selected. The Roulette is a simulated image as the server determines the outcome by a random process before the roulette starts. The nine items are not evenly weighted for probability. That is, the chances of getting 1, 3 or 5 Command Points is not 1 in 9 (11%); rather, the chances of gaining an item depends on its value.
Sanctum SanctorumEdit
A fictional three-story townhouse located in New York's Greenwich Village
The residence of occult expert Doctor Stephen Strange
The house, reputed by local residents to be haunted, is indeed magically "alive." Among the many oddities of the building is that there would appear to be more space inside that would seem from without. Some corridors form labyrinths, and the arrangement of rooms seems to change by itself. The house holds many powerful magical items, some of which have an innocent appearance. The Sanctum Sanctorum is protected from magical invasion by an intricate, permanent spell of mystical force constructed by Dr. Strange to interweave with the house's inherent energies.
S.H.I.E.L.DEdit

Strategic Homeland Intervention, Enforcement and Logistics Division
A fictional espionage and secret military law-enforcement agency in the Marvel Comics Universe
The group your Agent works for
"S.H.I.E.L.D. is a fictional espionage and secret military law-enforcement agency in the Marvel Comics Universe. Created by Stan Lee and Jack Kirby in Strange Tales #135 (Aug. 1965), it often deals with superhuman threats.
The acronym originally stood for Supreme Headquarters, International Espionage, Law-Enforcement Division.
It was changed in 1991 to Strategic Hazard Intervention Espionage Logistics Directorate.
Within the various films set within the Marvel Cinematic Universe, as well as in the animated series
"The Avengers: Earth's Mightiest Heroes, the acronym stands for "Strategic Homeland Intervention, Enforcement and Logistics Division
A game commodity that you use to train Heroes, conduct Research, and/or purchase Items.
Heroes that have a "Tossing" ability and gain the "Tosser" Team-Up Bonuses:- Hulk, Phoenix, She-Hulk, Thing
Are used alongside with Energy to do battles and access Missions in Special Operations. They are also used for Researching various items that are only available in Special Operations Tasks.
Vault, TheEdit
The widely used nickname of a third-level maximum security prison for holding superhuman criminals, located in over 40 feet below ground level in the Colorado Rocky Mountains. It had many advantages over more conventional prisons, as it contained multiple subterranean levels, was constructed from near-impervious materials such as Adamantium, and uses various power-dampening devices.
A rare, naturally occurring meteoric ore, theorized to be of extraterrestrial origin, found almost exclusively in the tiny African nation of Wakanda. It is not as hard or dense as Adamantium, but it is still very durable.
Captain America's shield is made of Vibranium, American Steel, and Adamantium.
A team of Mutants recruited by Professor X.
Have a question about the game? Please read the
FAQs
before posting a question below.