As part of Fan Appreciation Week 2013, Producer Justin Woods held a Live Q&A on Twitter on December 13, 2013 using the hashtag #MAAfanweek as a means for fans to ask their questions. The following are questions answered by the Developers during the event.
Why are the Heroic Battles from chapter 3 so difficult? Any chance to make them easier?Edit
We always want to provide a challenge to our players. That being said, we have made these a little easier, and we are thinking about tweaking them further.
I wanna know if there is any possibility of any heroes that are locked or expired will be available later?Edit
This has already happened many times.
So NOW can we get the big reveal of the SO16 Villian?Edit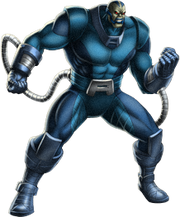 Well if I must.... http://pic.twitter.com/zvPOONmBWY
How does the MAA team decide U-ISO colors?Edit
We pick a skittle from a bag of skittles and whatever color it is is what we use. The multi-colored is when we grab a handful.
Are you planning to include X-Force uniforms on the game?Edit
We already have two, and we plan to do others.
I really love the art for all the character portraits. Who does them?Edit
@ArtOfSamWood and Kelly Hamilton (@artkitty).
There will be a non-X-Force or current Thunderbolts PvP character?Edit
Our PVP hero after Venom will not be Thunderbolts or X-Force.
Who do you want to be added the most?Edit
Designer Zach says "Molly Hayes"
We will see more X-Men coming soon? Or former Avengers will come first?Edit
Iceman is coming soon (as the reward hero for Spec op 16).
Who is going to be the lockbox hero of SO 16?Edit
There isn't one.
I was wondering what kind of game changing updates could we be looking forward to?Edit
Designer Zach says "Spec Op 16 will be an even more interesting way of replaying chapters than split missions."
Would it be possible to release previous PvP uniforms?Edit
Some of the items are in Incursion roulettes. And we are looking to bring Power Armors out soon. They will be limited time.
Are the heroes involved in the game based on their appearance in animation or are they based on the comic book?Edit
Usually comic book.
Will Lockboxes for Doom have more chance to get the character or the same chances of the past lockboxes?Edit
The odds for Doom's boxes are not changing from past lockboxes.
Will the ax, bucket, rod, neutropo come out again?Edit
We frequently re-release popular gear for limited time sales.
No specific question. Just tell us something about MAA that you're allowed to tell us.Edit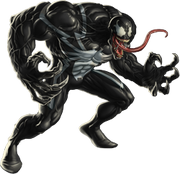 Agent Venom turns into a monster sometimes and it looks like this. http://pic.twitter.com/vx7bxEiARn
Are we going to see any MARVEL NOW uniforms soon?Edit
Like this one for the Chapter 4 Mastery Reward? http://pic.twitter.com/aunbrg9ojk
Here's a look at her in-game pose. http://pic.twitter.com/PxwwTWMF3m
How will SO 15 be split? Avengers Vs. X-men? Heroes Vs. Villains?Edit
There aren't restricted characters this time, but the story is Heroes vs. Villains.
Any Marvel character you'd like to see make it into the game that hasn't or won't at all?Edit
Programmer Christina says "Mr. Sinister."
Is there any chance of seeing Silver Surfer or Blade in the game as Spec Ops heroes?Edit
There's always a chance.
Is Dr. Doom the real prize of the Impending Lockboxes, or is it something else?Edit
Designer Zach says "There is only Doom."
How do you Developers choose the Heroic Battles and Premium missions for each chapter?Edit
We want every character to eventually have a Heroic, so we pick classic matchups with their friends or rivals.
Are there any major Marvel event stories that you would like to see in game at some point or wish for ?Edit
Designer Zach says "Nextwave".
Any chance of adding Heroic Battles/Incursions to Season 1 missions?Edit
We have no plans to change Season 1 missions, but we plan to add new features to Season 2.
Will you consider ways to make duplicate drops either less scarce or more valuable, especially in Challenge Mode? Edit
Designer Zach says "We are considering a feature that would consume old or useless items. So hold on to your trash."
Dude, where is Venom???Edit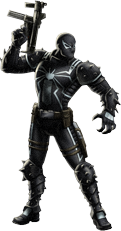 Right here. http://pic.twitter.com/aEWvpou81i
Are there thoughts/talk of adding Sinster Six appear in the game?Edit
Well we have plenty of Spidey villains in the game.
Any plans for new heroes that aren't from a lockbox?Edit
Dr. Voodoo says hi.
How many attacks does Dr Doom have?Edit
Doom refuses to divulge any more information on this subject.
In the MAA Universe, did Dr. Doom kill Cassie Lang?Edit
Nope!
What the next costume of the mission 4 of season 2?Edit
Showed earlier its Captain Marvel.
Are you guys planning on increasing hero level again in the future?Edit
Level 14 is on the horizon for next year.
Will we ever start to get backgrounds that aren't various cities?Edit
Well Chapter 4 will take us to Wakanda...
Any particular reason Nico was SO15 and Iceman was SO16?Edit
We wanted Nico to fight Arcade and Iceman to fight Apocalypse.
Are we ever gonna get Eddie Brock Venom as a playable character?Edit
Flash Thompson is the only Venom we have planned as playable. That being said he transforms into a classic-looking Venom.
Are Gray Hulk and Modern Rogue still in the pipeline? How about Mr. Fixit?Edit
We have a Grey Hulk planned that is based on his classic/first appearance and looks like this. http://pic.twitter.com/f9jHQ3PJ63
Any artworks of Agent Venom and Iceman?Edit
We've sent all of that out. But how about Iceman as the Horseman of Death? http://pic.twitter.com/W14WsBcCfg
It's playable.
Is this going to be real or just you guys fooling around?Edit
We are always fooling around. That being said, that's a real costume for Spec Op 16.
What upcoming addition to the game are you most excited for?Edit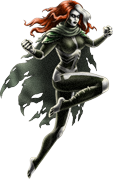 Playable Horsemen costumes. Like Rogue as Famine. http://pic.twitter.com/B7km8gE9mn
Will you ever be doing another Q&A?Edit
On the forums? Probably.
We would love to get more costumes in the game. Beast doesn't have a costume... yet: Here's Pestilence. http://pic.twitter.com/K20MxEQIws
It's my birthday, could you maybe answer one (or preferably all) of my questions?Edit
Sure. This one. Happy Birthday, Red!
Any hero that will be reworked like you did to Magick?Edit
Designer Zach says "Luke Cage."
Can you answer at least one of my questions?Edit
I haven't seen them because I have over 3,000 questions. Sorry!
Don't forget Magik alt uniform , I thought she should be Chapter 4....but instead Ms. Marvel first?Edit
We haven't forgotten. It will come out in 2014.
Wolverine was a Four Horsemen, will we see a Logan Horsemen alt or even better An Old Man Logan Alt?Edit
The Horseman of War is X-23 but we aren't ready to show her art yet.
Will Gambit and Wolverine have their Death Horseman alts released as well?Edit
No, we only have one Horseman of Death costume coming.
How will the 4 Horsemen Costumes be available?Edit
They will be available for a limited time during Spec Op 16.
With what event will the Horsemen alts be released? SO16?Edit
Spec Op 16.
X-23. We'll show you later.
Any other / NEW costumes which are not the horseman costumes?Edit
Another costume we are really excited about is Original War Machine. http://pic.twitter.com/gANbnClTze
"Last Post by @ProducerWoods"Edit
Last answer of the day, then we all have to get back to work. Yes, we're considering a feature to allow two heroes to train at once.
Clarifications / Additional Information
Edit
Additional Information present after the Live Q&A Event.
A small clarification on Horsemen. The Horsemen will be bosses in a new style of Spec Op. The alts will also be available for a limited time
Hey, I wanted to know how the other 3 alts that were announced are going to be obtainable? All chapter mastery?Edit
Captain Marvel is Chapter 4 mastery. Grey Hulk and Original War Machine are store for CP.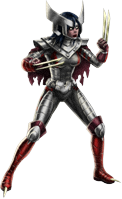 Thanks for playing along everyone. Here's X-23 as the Horseman of War. A boss and a playable uniform. #FREELAURA http://pic.twitter.com/ThycaVkAgy
Portraits of all of these are coming soon. We wanted you to enjoy the game art first this time.
For those just joining: Spec Op 16 will not be Age of Apocalypse, but a new Apocalypse story. Iceman will be the reward hero. No lockbox
(cont) Spec Op 16 will feature a new mission flow never seen in the game. The Horsemen will be both bosses as well as earnable costumes
(cont) We have not revealed how the Horsemen costumes will be obtained. Horsemen are: Beast, X-23, Iceman, and Rogue only. All were shown.
Spec Op 16 will launch sometime after the end of Spec Op 15, but we never give exact dates so please don't ask.
Ad blocker interference detected!
Wikia is a free-to-use site that makes money from advertising. We have a modified experience for viewers using ad blockers

Wikia is not accessible if you've made further modifications. Remove the custom ad blocker rule(s) and the page will load as expected.