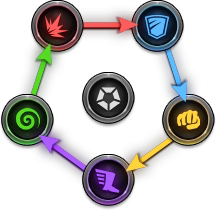 There are five Classes in Marvel: Avengers Alliance. All Classes are strong against one other Class, and weak against another. Every Hero and Enemy can have a class. Any without a class are a Generalist, with no strengths or weaknesses.
List of classes:
Notes
On April 1, 2013, Marvel.com released an article that contains joke content for Marvel: Avengers Alliance. One of them was a playable Galactus that had an entirely different Class as part of the joke.

It was jokingly referred to as the "Planet Eater" Class in the Developer Q&A VI, where it was also mentioned that the Developers do not have any plans in adding another Class into the game.