v

·

e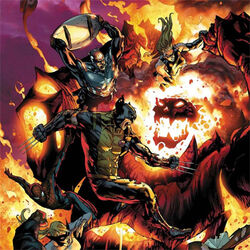 "Everything is starting to happen at once. Mutants are marching, the Hand's magical rituals continue, and the Maggia are out to decapitate SHIELD. Loki's also still out there, and Hydra seems to be expecting a shipment of some dangerous cargo.
"
— Chapter Briefing
Mission 1 - Anticipation
Anticipation
Mastery Stars
Score
Level
0
49
10,000
51
247,000
53
494,000
55
988,000
57
1,976,000
Agent's
Unlock Requirements:
Recruit 10 Heroes
Complete 1 Star Mastery in Chapter 6 - Mission 5
Acquire a total of 67 Mastery Stars
Location: Sanctum Sanctorum
Team-Up: Ms. Marvel

Mission 2 - Taking it to the Streets
Taking it to the Streets
Mastery Stars
Score
Level
0
50
11,500
52
282,000
54
564,000
56
1,128,000
58
2,256,000
Agent's
Unlock Requirements:
Complete 1 Star Mastery in Chapter 7 - Mission 1
Location: Museum of Natural History
Team-Up: Kitty Pryde

Mission 3 - Head Shot
Head Shot
Mastery Stars
Score
Level
0
51
9,000
53
348,000
55
696,000
57
1,392,000
59
2,784,000
Agent's
Unlock Requirements:
Complete 1 Star Mastery in Chapter 7 - Mission 2
Location: Latverian Embassy
Team-Up: Black Cat

Mission 4 - Deceiver and Destroyer
Deceiver and Destroyer
Mastery Stars
Score
Level
0
52
12,500
54
272,000
56
544,000
58
1,088,000
60
2,176,000
Agent's
Unlock Requirements:
Complete 1 Star Mastery in Chapter 7 - Mission 3
Location: Financial District
Team-Up: Sif

Mission 5 - Chaos Reigns
Chaos Reigns
Mastery Stars
Score
Level
0
53
13,500
55
256,000
57
512,000
59
1,024,000
61
2,048,000
Agent's
Unlock Requirements:
Complete 1 Star Mastery in Chapter 7 - Mission 4
Location: Sanctum Sanctorum
Team-Up: Dr. Strange

Premium Mission: A Whole New U
A Whole New U
Mastery Stars
Score
12,000
270,000
540,000
1,080,000
2,160,000
Unlock Requirements: Recruit Human Torch
Location: Latverian Embassy
Team-Up: Human Torch
Note:
Mission difficulty scales to players' agent level
v

·

e

Prologue  (Dialogues)
1. The Hydra's Tail
2. Class is in Session
3. HAIL HYDRA!
4. Designed Only for Killing
5. O Brother, Where Art Thou?
Premium Mission: Extra Large
1. In the Family
2. The Sound of Feathers Ruffling
3. Step into the Shadows
4. Mean People
5. Mutate or Die
Premium Mission: Ulterior Motive
Dialogues
Dialogues
1. Sacred Ground
2. Brooklyn Bridge is Falling Down
3. RAID-ical Resolution
4. Odd Bedfellows
5. Three Strikes
Premium Mission: Cephalocarrier
1. Jailbreak
2. Center Point
3. Hydrophobia
4. Unexpected Guest
5. Command Performance
Premium Mission: Tooth and Claw
Dialogues
Dialogues
1. An Early Frost
2. Taking AIM
3. Chemistry Set
4. Desecration
5. City of Stone
Premium Mission: Hydra Assemble!