v

·

e

























Dialogues
Dialogues
Dialogues
Dialogues
Dialogues
Dialogues
Dialogues
Dialogues
Dialogues
Dialogues
Dialogues
Dialogues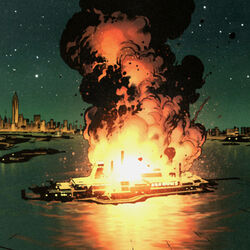 "Mutants are starting to march. They want rights, and they want Iso-8. Opposition mobilizes, and New York becomes a powder keg...which may be exactly what Magneto wants. Meanwhile, the Maggia and the Hand are cooperating on a mystical ritual that may open some extremely dangerous doors."
— Chapter Briefing
Mission 1 - Underworld Masquerade
Edit
Underworld Masquerade
Mastery Stars
Score
Level
0
40
9,000
42
238,000
44
476,000
46
952,000
48
1,904,000
Agent's
Unlock Requirements:
Recruit 9 Heroes
Complete 1 Star Mastery in Chapter 5 - Mission 5
Acquire a total of 51 Mastery Stars
Location: Little Italy
Team-Up: Invisible Woman

Mission 2 - I Predict a Riot
Edit
I Predict a Riot
Mastery Stars
Score
Level
0
41
7,000
43
207,000
45
414,000
47
828,000
49
1,656,000
Agent's
Unlock Requirements:
Complete 1 Star Mastery in Chapter 6 - Mission 1
Location: Yorkville
Team-Up: Cyclops

Mission 3 - Tentacular
Edit
Tentacular
Mastery Stars
Score
Level
0
42
9,000
44
355,000
46
710,000
48
1,420,000
50
2,840,000
Agent's
Unlock Requirements:
Complete 1 Star Mastery in Chapter 6 - Mission 2
Location: Columbus Circle
Team-Up: Spider-Woman

Mission 4 - Mutants Marching
Edit
Mutants Marching
Mastery Stars
Score
Level
0
43
11,000
45
247,000
47
494,000
49
988,000
51
1,976,000
Agent's
Unlock Requirements:
Complete 1 Star Mastery in Chapter 6 - Mission 3
Location: Times Square
Team-Up: Storm

Mission 5 - Magic Hand
Edit
Magic Hand
Mastery Stars
Score
Level
0
44
12,000
46
310,000
48
620,000
50
1,240,000
52
2,480,000
Agent's
Unlock Requirements:
Complete 1 Star Mastery in Chapter 6 - Mission 4
Location: Meatpacking District
Team-Up: Iron Fist

Premium Mission: Jailhouse Rock
Edit
Jailhouse Rock
Mastery Stars
Score
10,500
248,000
496,000
992,000
1,984,000
Unlock Requirements: Recruit Phoenix (Colossus in the early revisions)
Location: Ryker's Island
Team-Up: Phoenix
Note: Mission difficulty scales to players' agent level
Recruitment Note: When the game was first released, players were required to recruit Colossus to unlock this premium mission. In later versions of the game, players are required to recruit Phoenix in order to unlock the chapter. This premium mission not being unlocked after Phoenix was recruited was deemed to the devs as a known issue, so for players to be safe, both Colossus AND Phoenix should be recruited before players attempt this mission.

v

·

e

Prologue  (Dialogues)
1. The Hydra's Tail
2. Class is in Session
3. HAIL HYDRA!
4. Designed Only for Killing
5. O Brother, Where Art Thou?
Premium Mission: Extra Large
1. In the Family
2. The Sound of Feathers Ruffling
3. Step into the Shadows
4. Mean People
5. Mutate or Die
Premium Mission: Ulterior Motive
Dialogues
Dialogues
1. Sacred Ground
2. Brooklyn Bridge is Falling Down
3. RAID-ical Resolution
4. Odd Bedfellows
5. Three Strikes
Premium Mission: Cephalocarrier
1. Jailbreak
2. Center Point
3. Hydrophobia
4. Unexpected Guest
5. Command Performance
Premium Mission: Tooth and Claw
Dialogues
Dialogues
1. An Early Frost
2. Taking AIM
3. Chemistry Set
4. Desecration
5. City of Stone
Premium Mission: Hydra Assemble!
1. Underworld Masquerade
2. I Predict a Riot
3. Tentacular
4. Mutants Marching
5. Magic Hand
Premium Mission: Jailhouse Rock
Dialogues
Dialogues
1. Anticipation
2. Taking It to the Streets
3. Head Shot
4. Deceiver and Destroyer
5. Chaos Reigns
Premium Mission: A Whole New U
1. Enemies Hand in Hand
2. Congressional Action
3. Grand Experiment
4. Quis Custodiet
5. Regeneration
Premium Mission: Bring the Thunder
Dialogues
Dialogues
1. The Boss is Back
2. Mutatis Mutandis
3. Hand and Fist
4. Weird Science
5. Criminal Minds
Premium Mission: Darkness Rising
1. U-Foe Sighting
2. Power Play
3. Stormy Weather
4. Grinning Skull
5. The Syndicate
Premium Mission: Der Rote Schadel Lebt Noch
Dialogues
Dialogues
1. Mutants Take Manhattan
2. HYDRA for Humans!
3. Enter the Circle
4. Underground Resistance
5. Mutation Zone
Premium Mission: Breaking the Syndicate
1. Lokasenna
2. Ouroboros
3. Under the Hood
4. Technocrats
5. Feeding Frenzy
Premium Mission: Doom's Day
Dialogues
Dialogues
v

·

e

1. Artificial Sweetener
2. Trans-Atlantic
3. Sword in the Stone
4. Vulture, MP
5. God Save The Queen
Premium Mission: To Catch a Thief
1. Antiquity
2. Eight Fingers
3. Foggy Vision
4. The Sting
5. Rehabilitation
Premium Mission: Rock Candy
Tasks • Dialogues
Tasks • Dialogues
1. Shattered
2. Gates of Hell
3. Capo Crimine
4. Growing Pains
5. Techno Illogic
Premium Mission: Punishment
1. Splintering Cells
2. Heated Negotiations
3. Tourist Trap
4. Circular Speculations
5. Lockdown
Premium Mission: On the Prowl
Tasks • Dialogues
Tasks • Dialogues
1. Tech Up
2. Grudge Match
3. Up a Tree
4. Cleaning House
5. Enchanted
Premium Mission: Deific Inadequacy
1. Unknown Intel
2. Ancient Knight
3. Dark Complications
4. Harvester of Souls
5. Clash of Titans
Premium Mission: Fourth Wall
Tasks • Dialogues
Tasks • Dialogues
1. Black Queen, Black Knight?
2. Mysteries Abound
3. Savage
4. Many Heads
5. But One Immortal
Premium Mission: Explosive Events
1. Sentinel City
2. We're Not Worthy!
3. Highest Bidder
4. Demonic Dealings
5. Mindless Mischief
Premium Mission: Savage Science
Tasks • Dialogues
Tasks • Dialogues
1. Ritual Cleansing
2. Delusions of Grandeur
3. The Better of Both Worlds
4. Change the Channel
5. Hammer Hunt
Premium Mission: Worlds Domination
1. Breaking into Vibranium
2. The Big Apple
3. Madripoor
4. Eternal Darkness
5. Cosmic Connections
Premium Mission: I Have Become Death
Tasks • Dialogues
Tasks • Dialogues
1. Hellfire Extinguisher
2. Incurring Incursions
3. Soul Searching
4. Devil's in the Details
5. Forging Alliances
Premium Mission: Tower's Avenger
1. The Worthy Appeal
2. Time Trials
3. Serpent Strike
Tasks • Dialogues
Tasks • Dialogues
Ad blocker interference detected!
Wikia is a free-to-use site that makes money from advertising. We have a modified experience for viewers using ad blockers

Wikia is not accessible if you've made further modifications. Remove the custom ad blocker rule(s) and the page will load as expected.