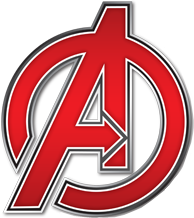 The Avengers is a team of "Earth's Mightiest Heroes" and the main focus of Marvel: Avengers Alliance.
After a world wide event causes a blackout, villains from all over converge upon New York City. The leader of S.H.I.E.L.D., Col. Nick Fury, calls on the Avengers to investigate the cause of The Pulse, and stop whatever schemes various villains are hatching. The Avengers are aided by other heroes who are also fighting the villains.
See also West Coast Avengers.
In-Game Members
Edit
Five of the Avengers appeared as Enemy Bosses in Special Operations - Avengers Vs X-Men. Three of the members had an Enemy-only unique Effect called the

All For One.
Non-game canonEdit
These Heroes are members in other media, but are not members in the game.
Avengers-Related
Edit
Alternate UniformsEdit
  All For One
4 turns
• Has a chance to counter attacks; Has a chance to doublestrike
  Avengers Assemble
• Grants Coordinated Attack to all allies
• Grants Cooperative Defense with two Avengers present
  Collaborative Effort
• Grants a morale boost, increasing all stats
  Cooperative Defense
• Allies have a chance to retaliate when an ally is hit by single-target attacks
  Coordinated Attack
• Attacks have a chance to cause allies to join in the attack
Team-Up BonusesEdit
| | | |
| --- | --- | --- |
| Assemble! | Any pair of core Avengers members | |
External Links
Edit