Augmented Isotope-8
Comments

490
6,597pages on
this wiki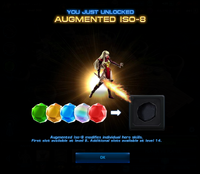 "After two years of studying the effects of Iso-8 in the lab, Hank Pym and Reed Richards have discovered how to engineer Iso-8 that can safely augment heroes' natural abilities. This Augmented Iso-8, or A-Iso, can be attached to a hero's move, giving it new properties. Each Augmented Iso-8 can only be equipped to a certain kind of move, however. One might only modify Unarmed attacks, while another might modify only Energy attacks. Certain Augmented Iso-8 can only be used by a specific hero to modify one of their signature moves."
Augmented Isotope-8 is used to enhance a hero's move set. Unlike the original Isotope-8, Augmented Iso-8 is similar to Empowered Isotope-8 and adds special effects when equipped but instead of gaining a new Passive, the Augmented Iso-8 affects the moves of the Hero.
Each of a hero's four move slots has one slot for an Augmented Iso-8. At level 8, a hero can equip one Augmented Iso-8 onto one of their moves. This can go into any move they have unlocked, but they cannot have more than one move equipped at a time. However, players can safely unequip Augmented Iso-8 from a move at any time, allowing them to equip a different move. At level 14, they can equip to all four moves. This gives players a chance to experience Augmented Iso-8 early on, while still creating a powerful incentive to reach max level. See the next image for an example of a Level 9 hero's Iso-8 tab. As you will notice, it says "0/1 EQUIPPED". For a Level 14 hero this will say "0/4 EQUIPPED".
Much like the Empowered Isotope, inserting an Augmented Isotope is reversible. When removed, the Isotope simply returns to your inventory to be used by later. Hint: You can move E-Iso from one hero to another when you click on equip and on the E-Iso screen click on the equipped tab, you can drag the one you want onto the current hero. Like E-Iso, A-Iso cannot be socketed into the Armory as they don't have PVP Bonus.
Each A-Iso can be sold for 1,000
Silver.
Types
Augmented Iso-8
Icon
Name
Action/s
Effects
Cost/Location
Charged Artillery A-Iso
Gun
Explosion
 

Charged Attack

20
Focused Artillery A-Iso
Gun
Explosion
 

Focused Attack

10
Powerful Artillery A-Iso
Gun
Explosion
 

Powerful Attack

30
Charged Ballistic A-Iso
Ranged
 

Charged Attack

20
Focused Ballistic A-Iso
Ranged
 

Focused Attack

10
Powerful Ballistic A-Iso
Ranged
 

Powerful Attack

30
Charged Blackbelt A-Iso
Unarmed
 

Charged Attack

20
Focused Blackbelt A-Iso
Unarmed
 

Focused Attack

10
Powerful Blackbelt A-Iso
Unarmed
 

Powerful Attack

30
Charged Bladed A-Iso
Slashing
 

Charged Attack

20
Focused Bladed A-Iso
Slashing
 

Focused Attack

10
Powerful Bladed A-Iso
Slashing
 

Powerful Attack

30
Charged Eldritch A-Iso
Magic or
Summon
 

Charged Attack

20
Focused Eldritch A-Iso
Magic or
Summon
 

Focused Attack

10
Powerful Eldritch A-Iso
Magic or
Summon
 

Powerful Attack

30
Charged Elemental A-Iso
Fire
Electric
Ice
Elemental
 

Charged Attack

20
Focused Elemental A-Iso
Fire
Electric
Ice
Elemental
 

Focused Attack

10
Powerful Elemental A-Iso
Fire
Electric
Ice
Elemental
 

Powerful Attack

30
Charged Kinetic A-Iso
Kinetic or
Sonic
 

Charged Attack

20
Focused Kinetic A-Iso
Kinetic or
Sonic
 

Focused Attack

10
Powerful Kinetic A-Iso
Kinetic or
Sonic
 

Powerful Attack

30
Charged Martial A-Iso
Melee
 

Charged Attack

20
Focused Martial A-Iso
Melee
 

Focused Attack

10
Powerful Martial A-Iso
Melee
 

Powerful Attack

30
Charged Mechanized A-Iso
Tech
 

Charged Attack

20
Focused Mechanized A-Iso
Tech
 

Focused Attack

10
Powerful Mechanized A-Iso
Tech
 

Powerful Attack

30
Charged Radiant A-Iso
Energy
 

Charged Attack

20
Focused Radiant A-Iso
Energy
 

Focused Attack

10
Powerful Radiant A-Iso
Energy
 

Powerful Attack

30
Focused Tectonic A-Iso
Ground
 

Focused Attack

10
Powerful Tectonic A-Iso
Ground
 

Powerful Attack

30
Premium Augmented Iso-8
Icon
Name
Action/s
Effects
Cost/Location
Aiming Augmented Iso-8
Ranged
 

Assisted Aiming

5
Automated Augmented Iso-8
Tech
 

Auto-Updating

15
Cooperative Augmented Iso-8
Summon
 

On Call

15
Erupting Augmented Iso-8
Ground
 

Eruption

5
Gracious Augmented Iso-8
Buff
 

Grace

5
Ionizing Augmented Iso-8
Energy
 

Ionizing Discharge

10
Maddening Augmented Iso-8
Psychic
 

Dark Secrets

5
Pugilist Augmented Iso-8
Unarmed
 

Pugilist

10
Pulverizing Augmented Iso-8
Melee
 

Pulverize

10
Sniping Augmented Iso-8
Gun
 

Sniper

10
Sorcerous Augmented Iso-8
Magic
 

Combat Casting

15
Vorpal Augmented Iso-8
Slashing
 

Monomolecular Blades

15
Pressurized Augmented Iso-8
Unarmed
 

Pressurized

10
Bloody Augmented Iso-8
Unarmed
 

Pulpy

10
Manifesting Augmented Iso-8
Buff
 

Manifesting

10
Brain Freeze Augmented Iso-8
Psychic
 

Brain Freeze

5
Thorned Augmented Iso-8
Magic
 

Thorned

5
Obsolescent Augmented Iso-8
Tech
 

Obsolescence

10
Vampiric Augmented Iso-8
Slashing
 

Vampiric Strike

15
Supressing Augmented Iso-8
Energy
Template:EI-Supression 

Supression

15
Sharpshooting Augmented Iso-8
Gun
 

Sharpshooter

10
Rising Augmented Iso-8
Heal
 

Rising

15
Bursting Augmented Iso-8
Ranged
 

Bursting

10
Knocking Augmented Iso-8
Melee
 

Knocking

10
Character Restricted Augmented Iso-8
Icon
Name
Effects
Hero
Action
Cost/Location
Poised
Augmented Isotope-8
 

Poised

Hercules
Gift of Battle
S2 Mission 2.1
Puncturing
Augmented Isotope-8
 

Misfortune

X-23
Blades of Rage
S2 Mission 2.2
Flaring
Augmented Isotope-8
 

Solar Flare

Vision
Solar Jewel
S2 Mission 2.3
Anaphylactic
Augmented Isotope-8
 

Anaphylaxis

Wasp
Bioenergy Blast
S2 Mission 2.4
Slamming
Augmented Isotope-8
 

Slamming

Hank Pym
Goliath Punch
S2 Mission 2.4 Epic
Cagey
Augmented Isotope-8
 

Hangin' Tough

Luke Cage
Bodyguard
S2 Mission 2.5
Breaking
Augmented Isotope-8
 

Misfortune

Scarlet Witch
Probability Field
S2 Mission 2.6
Building
Augmented Isotope-8
 

Fortune

Scarlet Witch
Probability Field
S2 Mission 2.6 Epic
Painful
Augmented Isotope-8
 

Pain Train

Shatterstar
Blade Maelstrom
S2 Mission 3.1
Charged
Augmented Isotope-8
 

Charged

Magik
Soulsword
S2 Mission 3.2
Ragged
Augmented Isotope-8
 

Manriki

Daredevil
Manrikigusari
S2 Mission 3.3
Formican
Augmented Isotope-8
 

Ants! Ants! Ants!

Hank Pym
Army of Ants
S2 Mission 3.4
Selective
Augmented Isotope-8
 

Selective Burning

Sunfire
Kouen Banjou
S2 Mission 3.5
Sensing
Augmented Isotope-8
 

PreEVA

Fantomex
Diabolique
S2 Mission 3.5 Epic
Loaded
Augmented Isotope-8
 

Tactical Planning

Punisher
Walking Armory
S2 Mission 3.6
Upgraded
Augmented Isotope-8
 

Fatal Fender

Punisher
Battle Van
S2 Mission 3.6 Epic
Victorious
Augmented Isotope-8
 

Victorious

Union Jack
V for Victory
S2 Mission 4.1
Endothermic
Augmented Isotope-8
 

Endothermic

Red Hulk
Gamma Bomb
S2 Mission 4.2
Valhallan
Augmented Isotope-8
 

Valhallan

Valkyrie
Sacrificial Blessing
S2 Mission 4.3
Worthy
Augmented Isotope-8
 

Worthy

Thor
Inspire Bravery
S2 Mission 4.3 Epic
Penitent
Augmented Isotope-8
 

Penitent

Angel
Absolution
S2 Mission 4.4
Virulent
Augmented Isotope-8
 

Virulent

Archangel
Pestilence
S2 Mission 4.4
Tempestuous
Augmented Isotope-8
 

Tempest

Thundra
Cyclone Smash
S2 Mission 4.5
Reflexive
Augmented Isotope-8
 

Reflexive

Black Panther
Vibranium Daggers
S2 Mission 4.6

Arachnid
Augmented Isotope-8
 

Arachnid

Spider-Man
Web Slingshot
S2 Mission 4.6 Epic
Stabilizing
Augmented Isotope-8
 

Energy Focus

Havok
Plasma Wave
S2 Mission 5.1
Advantageous
Augmented Isotope-8
 

Personal

Ares
Personal War
S2 Mission 5.2
Nutty
Augmented Isotope-8
 

More Nuts!

Squirrel Girl
Nuts to This
S2 Mission 5.3
Controlling
Augmented Isotope-8
 

Controlling

Emma Frost
Psychic Tap
S2 Mission 5.4
Shocking
Augmented Isotope-8
 

Electrical Current

Thor
Empowering Strike
S2 Mission 5.5
Raging
Augmented Isotope-8
 

Berserking

Sif
Inspire Courage
S2 Mission 5.5 Epic
Gifted
Augmented Isotope-8
 

Guffaw

Hercules
Gift of Battle
S2 Mission 5.6
Boxing
Augmented Isotope-8
 

Mean and Green

She-Hulk
Punch
S2 Mission 5.6 Epic
Sighted
Augmented Isotope-8
 

Upgraded Interface

Vision
Infiltrator Interface
S2 Mission 6.1
Fractured
Augmented Isotope-8
 

Bloody Knuckles

Moon Knight
Fist of Khonshu
S2 Mission 6.2
Ferric
Augmented Isotope-8
 

Lifting Spirits

Iron Fist
Healing Chi
S2 Mission 6.3
Feline
Augmented Isotope-8
 

Jinx

Black Cat
Unlucky Strike
S2 Mission 6.3 Epic
Damning
Augmented Isotope-8
 

Inquisition

Ghost Rider
Damnation Chains
S2 Mission 6.4
Ritualistic
Augmented Isotope-8
 

Ritualism

Doctor Voodoo
Voodoo Incantation
S2 Mission 6.5
Ridiculous
Augmented Isotope-8
 

Share the Love

Deadpool
Sharp Pointy Things
S2 Mission 6.6
Extricating
Augmented Isotope-8
 

Hard Reset

Rescue
Status Reset
S2 Mission 6.6 Epic
Trampling
Augmented Isotope-8
 

Trample

Black Knight
Valinor
S2 Mission 7.1
Reckless
Augmented Isotope-8
 

Reckless

Daredevil
Snap Kick
S2 Mission 7.2
Mangling
Augmented Isotope-8
 

Mangling

Wolverine
Feral Ambush
S2 Mission 7.3
Dazing
Augmented Isotope-8
 

Dazing

Spider-Woman
Brawl
S2 Mission 7.4
Concussing
Augmented Isotope-8
 

Concussed

Captain America
Shield Bash
S2 Mission 7.5
Enduring
Augmented Isotope-8
 

Ceaseless

Wonder Man
Wonders Never Cease
S2 Mission 7.6
Upcoming Augmented Iso-8
Chapter 1
Black Knight
Captain Britain
Colossus
Gambit
Psylocke
Union Jack
Unknown
Chapter 8
Notes
Introduced on March 11, 2014.
Generic Augmented Iso-8 will be available from deploys across Season 2 and in the store along with a selection of premium Augmented Iso-8. Hero-specific Augmented Iso-8 is dropped from boss battles where the hero is a cameo (Exception: Epic Boss battles provides hero-specific Augmented Iso-8 for heroes that aren't team-ups).
Augmented Iso-8 appeared in deploys following a patch on April 02, 2014.
Ability Types without any "premium" AIso-8:

Bio, Debuff, Electric, Elemental, Explosion, Fire, Heal, Ice, Kinetic, Shadow, Sonic, Temporal, Vibranium, Water
Expected Future Retroactively added Character A-ISO
As all Character-Restricted Augmented ISOs drop from boss battles where those charcters are the team-up, and the devs have stated that they plan to eventually add A-ISOs to earlier Season 2 missions, these are what we can expect in the future:
| Icon | Name | Effects | Hero | Action | Cost/Location |
| --- | --- | --- | --- | --- | --- |
| | unknown Augmented Isotope-8 | unknown Effects | Colossus | unknown Action | S2 Mission 1.1 |
| | unknown Augmented Isotope-8 | unknown Effects | Psylocke | unknown Action | S2 Mission 1.2 |
| | unknown Augmented Isotope-8 | unknown Effects | Union Jack | unknown Action | S2 Mission 1.3 |
| | unknown Augmented Isotope-8 | unknown Effects | Captain Britain | unknown Action | S2 Mission 1.4 |
| | unknown Augmented Isotope-8 | unknown Effects | unknown Hero | unknown Action | S2 Mission 1.4 (Epic Boss) |
| | unknown Augmented Isotope-8 | unknown Effects | Black Knight | unknown Action | S2 Mission 1.5 |
| | unknown Augmented Isotope-8 | unknown Effects | Gambit | unknown Action | S2 Mission 1.6 |
| | unknown Augmented Isotope-8 | unknown Effects | unknown Hero | unknown Action | S2 Mission 1.6 (Epic Boss) |
| | | | | | |